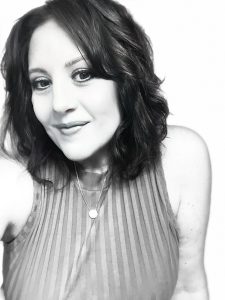 ---
In the vibrant heart of New York City, and around the world, Tammi isn't just a makeup artist; she embodies the essence of "transcending beauty." With over 25 years of unparalleled expertise, she has emerged as the trusted creative partner for advertising executives, production teams, elite fashion photographers, brides, and A-list celebrities.
Drawn into the world of color and creativity by fashion magazines, Tammi's trajectory led her to hone her skills alongside industry icons like Val Garland, Isamaya French, Robert Jones, and Donna Mee. With a portfolio boasting placements in esteemed publications like Vogue Italia, Cosmopolitan, and L'Officiel, she showcases not just her craft but her uncanny ability to adapt, ensuring every campaign, shoot, or special day is both striking and memorable.
For advertising executives: Tammi understands the balance between brand aesthetics and audience appeal, ensuring that campaigns resonate both visually and emotionally.
For production companies: Her track record boasts of working in multifaceted environments, translating a director's vision into a captivating on-screen reality.
For fashion photographers: Tammi's artistry aligns with the lens, ensuring every shot captures a model's essence and the photographer's narrative with clean results.
For brides: On your special day, Tammi is committed to making you feel and look like the best version of yourself, capturing the joy and elegance of the moment.
For celebrities: Whether it's for a red carpet event, magazine cover, or a music video, Tammi ensures you shine in the spotlight, reflecting your unique persona with every brushstroke.
With Tammi, you're not just embracing beauty; you're transcending it. Experience the artistry that goes beyond the surface, where every brush stroke narrates a story of transformation.
Here's What Gets Me Excited!
When I hand over the mirror and witness that spark – that emotional surge of self-assurance, grace, and sheer joy in my client's eyes, I'm reminded of why I cherish my craft so deeply.
For me, makeup isn't just about aesthetics; it's an intimate dance of emotions and expression. The thrill of channeling my artistry onto a living canvas, celebrating the fusion of beauty and shared emotions, is simply unparalleled, Tammi shares.
LOVED AND TRUSTED BY MY CLIENTS
Read what my clients are saying whom I've worked with to make their life a bit more beautiful.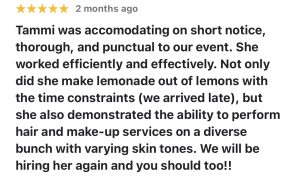 J. Trabacchi, Universal Ad Media
Amazing makeup artist and so professional. Life on Mars Beauty thanks you for being on the shoot, helping us get a hairdresser and for having a skillful eye in every aspect. Highly recommend you and your team for any photography jobs. Today as online beauty selling is growing faster than any other market, companies need to invest in good artists who know what they are doing! Cynthia Sansone, CEO at Life On Mars Beauty
Your work was so clean, there wasn't much to do. I was able to edit 29 photos in 3 hours! So, I am editing more. Ruben Marin, Photographer, Bronx, NY 
Tammi is simply the consummate professional—I was so thrilled to work with her! She did my makeup on my wedding day as well as that of my maid of honor and wedding officiant. We all looked absolutely amazing! I was after a natural and effortless look and Tammi gave me just that (which is not as easy as it sounds). Before I booked Tammi, I had done several trials with other beauty artists … and none of them was nearly as good. What particularly makes Tammi stand out among the rest was her ability to listen to my specific wishes for how I wanted to look on my special day. I've already recommended her to three other brides-to-be. Tammi, you're the best! — Annabelle Reboli-Johnson, Fashion Photographer and Bride, Brooklyn, NY