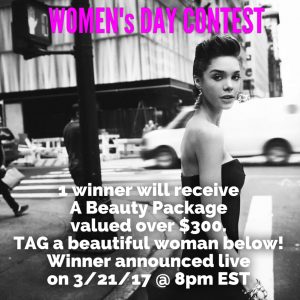 **TAG THE WOMEN IN YOUR LIFE and let them know they are BEAUTIFUL! **
We are our toughest critics.
To me, we are all beautiful in our own way. Being a makeup artist, it's my greatest gift to help women see the beauty I see in them, watching them light up when I hand them the mirror after a makeup session with me.
In honor of International Women's Day, I am offering a CONTEST.
1 winner will receive A Beauty Package valued over $300 that includes:
* A pre-session consultation to discuss what she'd like to focus on for her private lesson
* 1 hour complimentary makeup lesson with me to create a personalized look just for her
* answer specific questions that concern her
* receive tips on how to create that look on her own.
ENTER ALL THE BEAUTIFUL WOMEN IN YOUR LIFE BY TAGGING THEM in the comments below. If they aren't on Facebook, please note their name and PM me their phone number so they can be reached if they win. Session can be done via Skype if not in the NY metro Area. Winner will be randomly selected live on Facebook on Tuesday March 21st at 8pm EST.
Show 29 Comments